en:dissemination_and_communication
Warning Dissemination and Communication
To initiate this component, the different warning levels were defined. Within the levels, the "Normal or Stable" level was included to highlight the necessary preventive measures to avoid situations that favor the development of landslides by man, such as deforestation, slash-and-burn, lack of maintenance of hoses, improper removal of the slope, etc.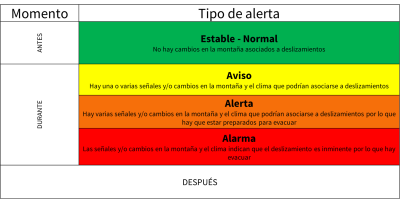 These warning levels were created by combining the knowledge of the project's technicians and geologists with the knowledge of the area of the community at risk.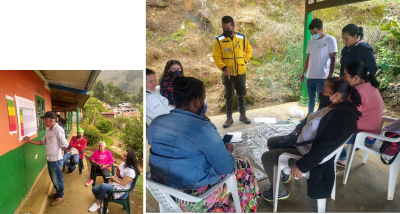 The warning levels include precipitation characteristics and signs of mountain behavior, both qualitative and quantitative. They also include the actions to be taken by the municipality and the municipal risk management authority DAGRD, as well as the predefined message to be disseminated in the different media.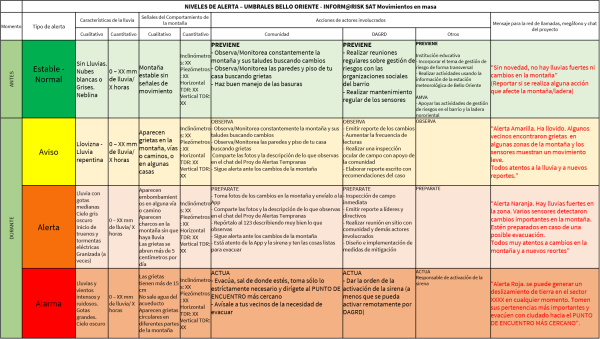 For the means of dissemination, we rely on the principle of redundancy to ensure that the message reaches all those at risk. The means include WhatsApp groups, pushup messages from the app Inform@risk, a siren installed in the upper part of the neighborhood in Teofanía, a loudspeaker system installed in the upper part of the neighborhood in El Internado, and home visits.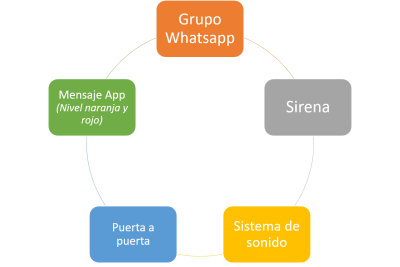 Regarding the Inform@risk app for cell phones: it can be downloaded from the App Store for Android. The app contains several components, including the color display of the alert level, general information about the project and the location of the meeting points, and suggestions for actions to be taken depending on the alert status.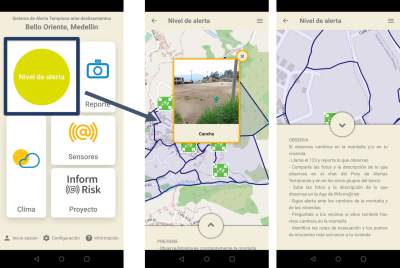 It also shows the current status of the sensors, as well as detailed information collected by the sensors.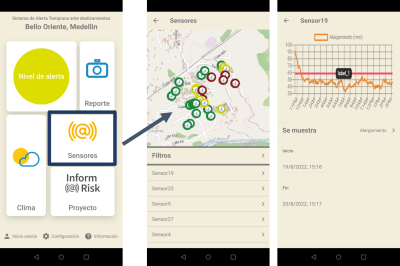 Finally, residents can use the app to report changes to the underground (cracks, leaning trees, landslides, etc.) and send a photo with a brief description and GPS location.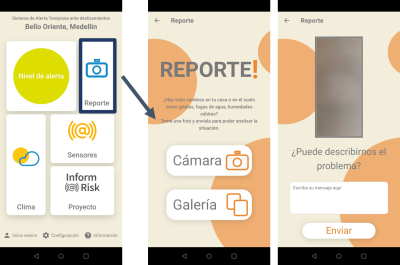 en/dissemination_and_communication.txt · Last modified: 2023/01/18 16:12 by m-gamperl
---